Our standard service – proven in the mixed-cargo shipment market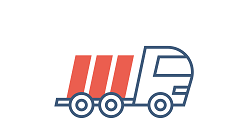 Our transport network implements a planned transit time of 24-48 hours.
That is to say the shipment which you turn over to your carrier today will normally arrive at the receiver tomorrow, at the latest the day after tomorrow. The receipt is aknowledged by a scanner, and the details on the delivery are immediately available to the shipper. Your shipments are trackable in real time.
The planned transit time reflects both distribution and outbound logistcs – Germany-wide.
CTL CLASSIC can be combined with CTL GEFAHRENGUT.